FM PRODUCTS 9MM UPPER ASSEMBLY MANUAL
FM PRODUCTS 5.56 UPPER ASSEMBLY MANUAL
SGM magazines are not compatable with foxtrot mike products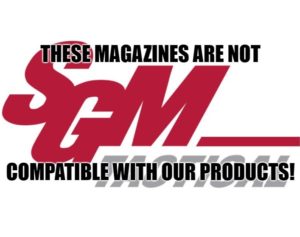 MP5 magazines and Foxtrot Mike FM-9 upper
What is the inner diameter for your handguard?
Inner diameter of a handguard is 1.3″
FOXTROT MIKE FM-9 Upper Receiver and Bolt Carrier MAINTENANCE AND CLEANING
how to swap the charging handle on a FOXTROT MIKE FM-9 Upper Receiver
How to change the forward charging handle on a FOXTROT MIKE FM-9
Installing the Paratrooper Charging Handle:
Removing the Polymer Handle:
SPIKES GLOCK STYLE LOWER EJECTOR MODIFICATION
Using the stern magwell adapter with the Foxtrot Mike FM9
Please go to the following links:
QUARTER CIRCLE 10 LOWER EJECTOR MODIFICATION
a barrel nut torque
Hand tighten the barrel nut, slide handguard over the nut to see how far to turn it to align the holes between the handguard and barrel but.
Slowly tighten the nut a little at a time using a 1 3/16" or 30mm box wrench making sure you don't go part the next set if holes
Once the holes are aligned between the barrel nut and hand guard, apply loctote to the 8 socket head cap screws and tighten until they are snug using an Allen wrench
inner sizes of handguards
The inner size of a handguard is 1.3"

buffer spring recommendations
We use a stainless steel music wire heavy duty .308 spring
recommendation for the buffer weight and spring to use with your 9mm upper
we suggest using a 6.5 oz buffer and a .308 recoil spring
Will standard carbine spring work with your heavy buffer in carbine buffer tube?
we recommend a .308 carbine spring for use with our heavy 9mm buffers
would you be able to recommend a buffer spring or would any .308 flat white buffer spring do?
a .308 carbine spring will work fine
Does the billet lower have a LRBHO?
foxtrot mike and stern defense fix - fm9 sidecharger with mag block
a Stern AD9 adapter and a FM9 complete upper fitment issues between the two items:
"Directions of the stern block is to pull it down and set the screws.
Try installing the block after the upper is in place and bolt is in forward position before the magblock install. The block being too high is going to cause you to hit your mag catch because its being pushed up, hitting the ejector or feed ramp because its too high, tons of issues."